// FREE SHIPPING Australia wide. On all orders over $50 // AFTERPAY Accepted Here. Pay in 4 //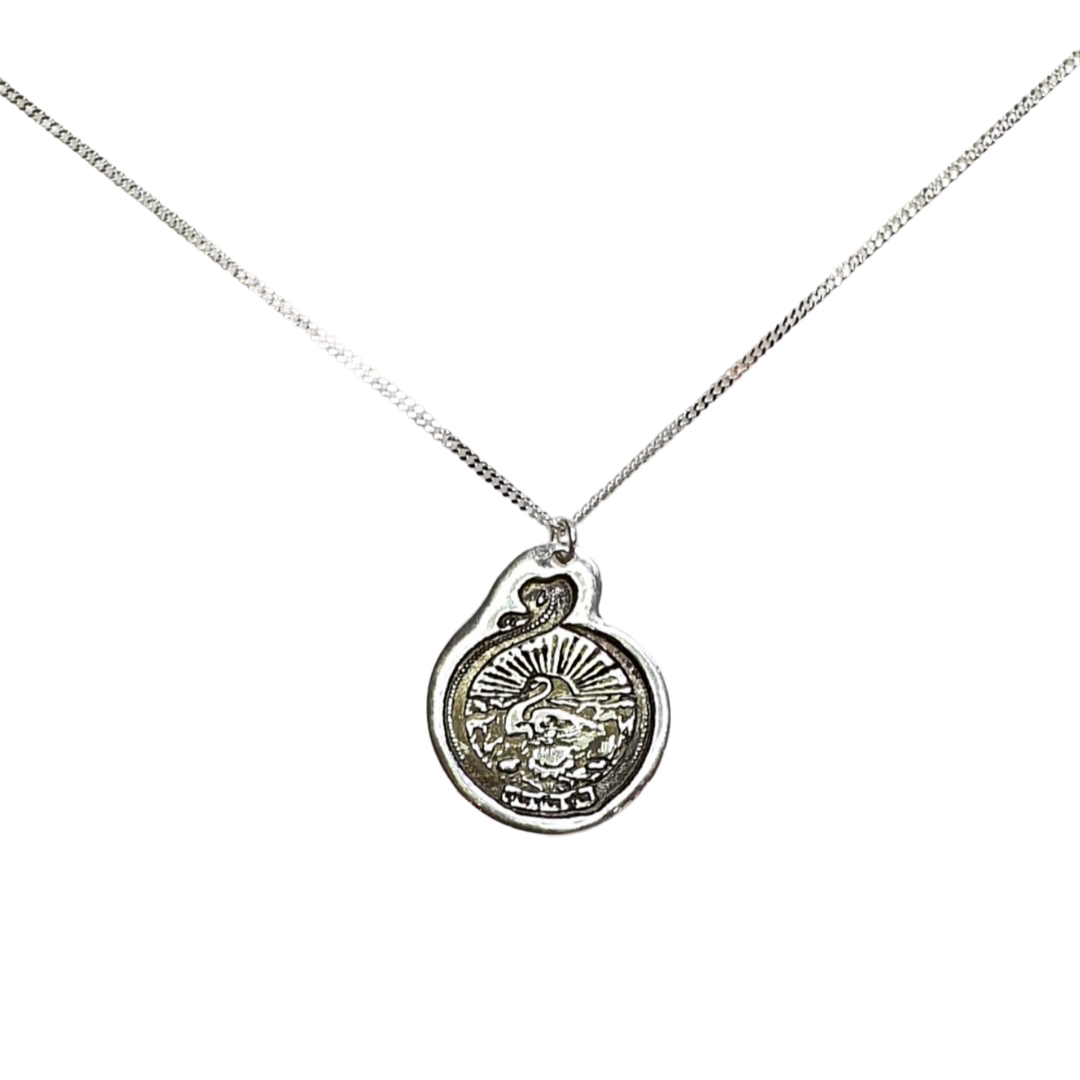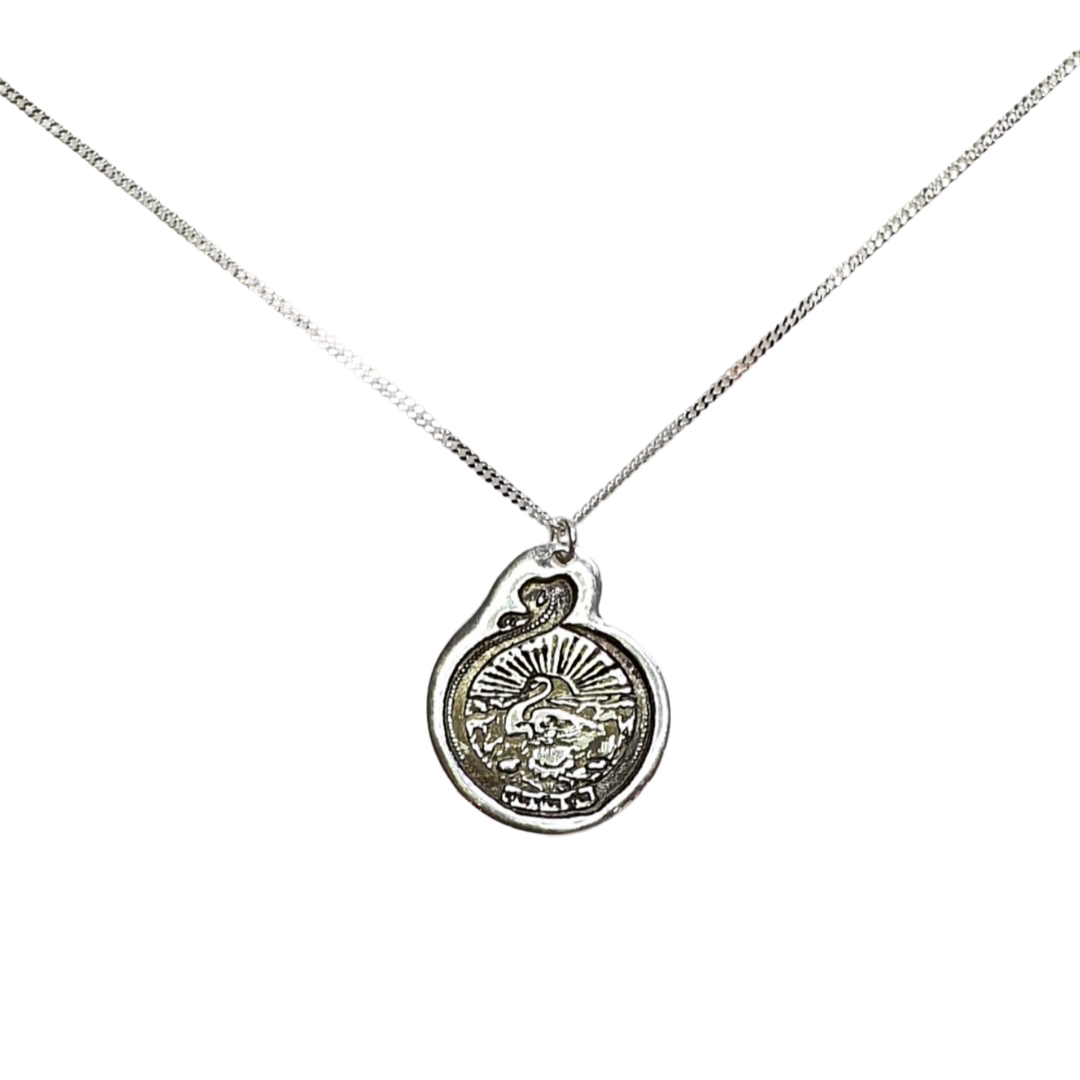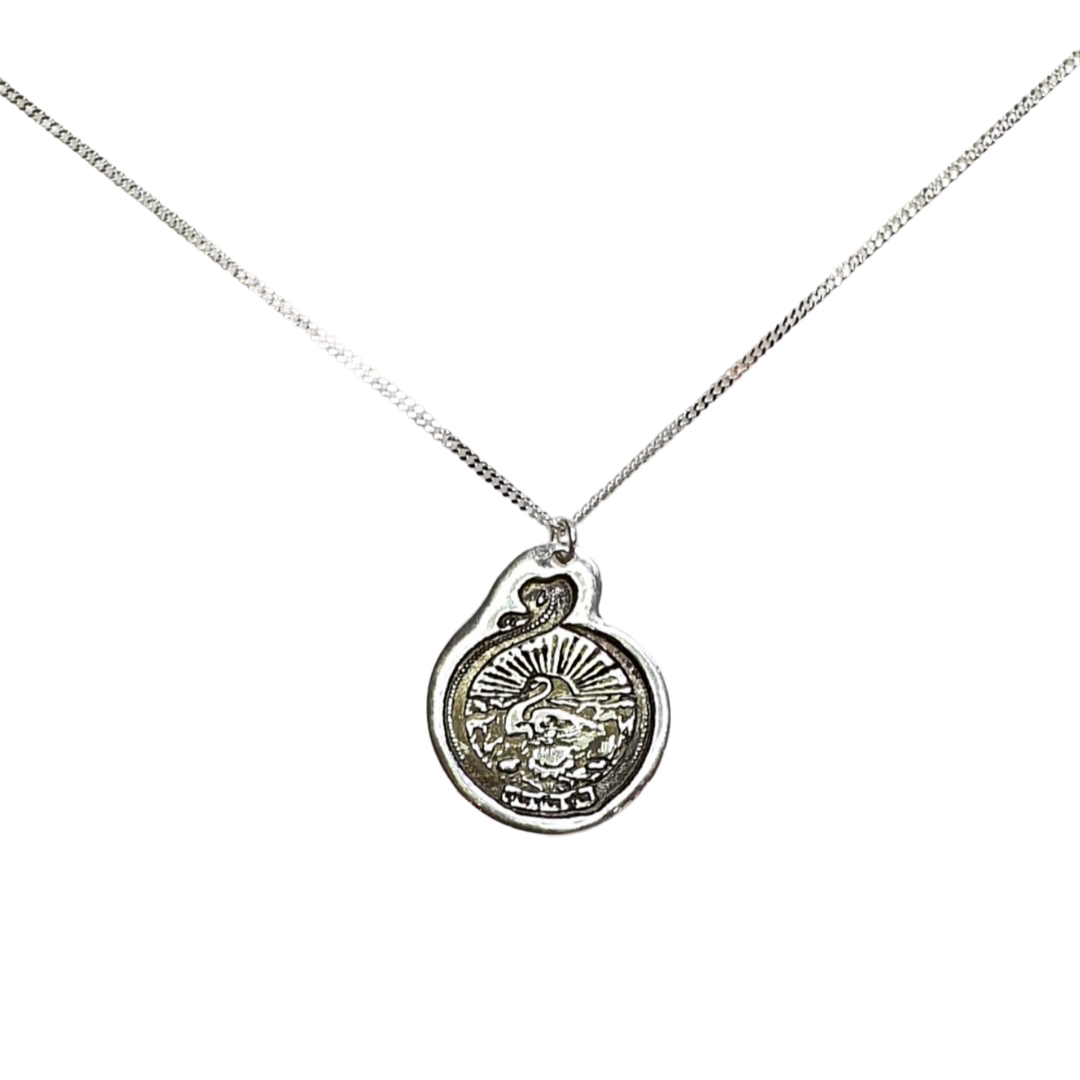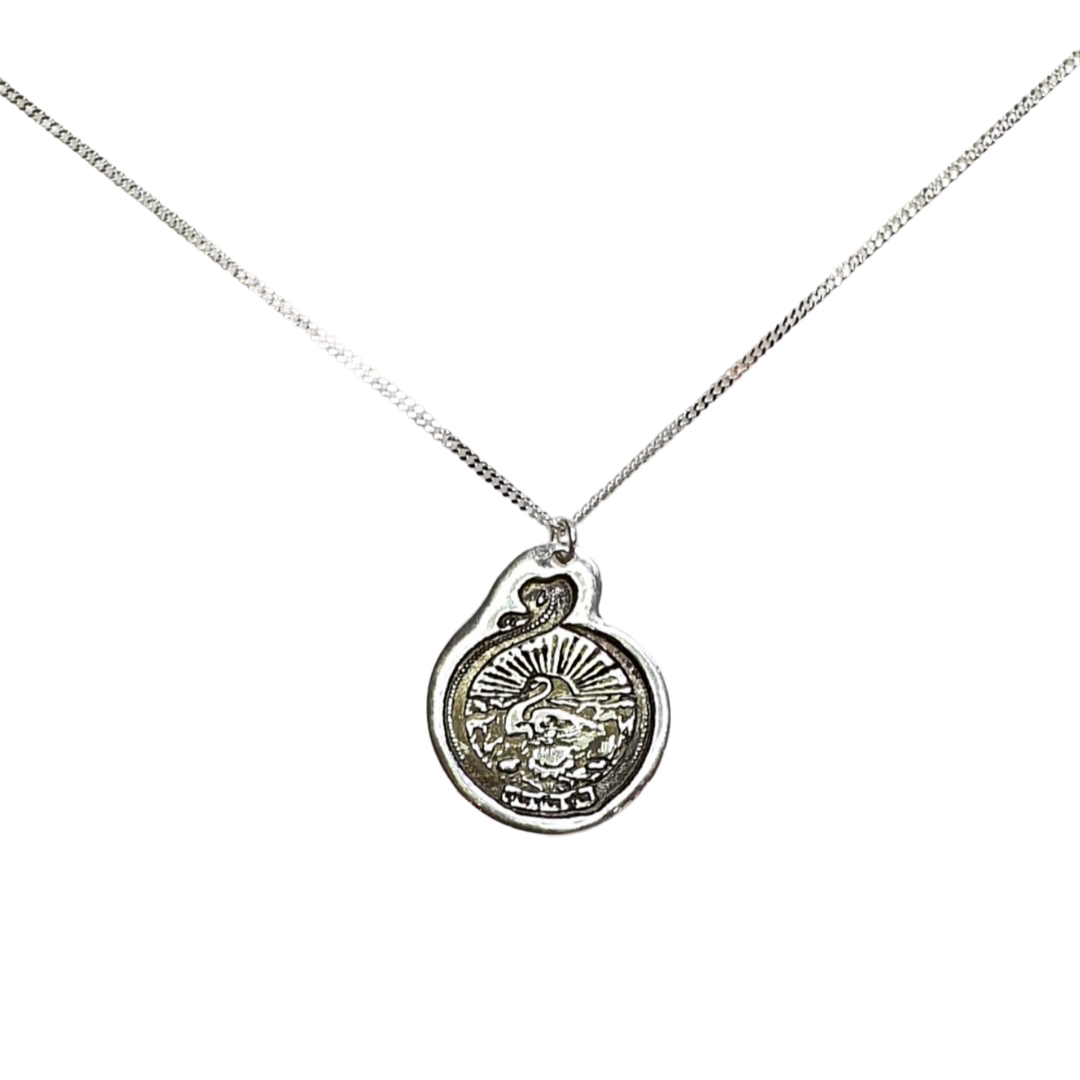 Mudita Necklace - Ready to Ship
Mudita: sympathetic, vicarious joy; happiness rather than resentment for someone else's well-being or good fortune.

Snake Symbology: snakes are said to bring long life and wisdom. Combining these two elements into a talisman to wear around your neck we hope this is a reminder to celebrate the good fortune and good luck of others around you.
Available in sterling silver
Comes with matching 50cm chain.

Want to upgrade your ring box option? Click here
Frequently Asked Questions
How long will my order take?
Windfall pieces are handmade to order so there is a wait time involved. Sometimes we have pieces already made up, in stock and ready to go BUT generally we make them from scratch to order. Please view the below times frames and get in contact if you have any queries about our wait times PRIOR to your purchase - sarah@windfalljewellery.com

Engagement Rings & Stone Set Wedding Bands: 8 - 12 weeks from initial payment. (not including public holidays)
Signets, Necklaces & Plain Wedding Bands: 3 - 4 weeks from the date of payment. (not including public holidays)
Gem Set Rings: 5 weeks from the date of payment. (not including public holidays)
Custom Signets & Ring/Necklaces: 5 to 6 weeks from the date of payment. (this time frame may change dependant on the piece)
If you need an item by a certain date, to avoid disappointment, please email us BEFORE you purchase and we will let you know your options - sarah@windfalljewellery.com
If any changes are made to your order during the making process, this may extend your wait time.
For wedding rings, we always recommend that you plan to have your order in with enough time they are finished a few weeks/month before. Depending on when you order your wedding ring, sometimes that sizing can be a touch off and this allows us time for you to try them on and us to make adjustments if needed. It also allows you to breathe easy knowing it is ticked off the list and the rings are done and in your possession well before the wedding.
Picking an engagement ring style can be overwhelming and so can settling on the star of the show, the centre stone. Here is some information about the different stone types on our website that may be helpful.
Important note - Some of these stones you will not see as an option on the product listing of the website due to the wide variation of size and pricing. So, if there is a stone you have your heart set on but you don't see it in this list or on our website, contact us here and we can quote you directly.
 MOISSANITE

As you can see from above Moissanite is very similar to a natural diamond but with some added features. Moissanite naturally has more fire dispersion and brilliance than most natural diamonds. It also has a hardness rating of 9.25 on the MOHS scale which make them an excellent, hard wearing alternative to diamonds. 

Did I forget to mention at a fraction of the cost also??? While Natural Diamonds come with a hefty price tag... Moissanite is a great, affordable comparison for those who want that white diamond look but don't want to burn a hole in their pockets. 

Traditionally we use carat as the unit of measurement for a diamond's weight. Moissanite is not measured in carats because it weighs approximately 10 percent less than diamond. For example, a 6.5mm round diamond would weigh 1.0ct, while a 6.5mm round moissanite would weigh 0.88ct. The two stones would be the same size - 6.5mm in diameter. For this reason, all moissanites for sale are listed on our website with their size in millimetres.
The ECO-FRIENDLY aspect of Moissanite is so important to our business along with educating our customers and recognising growing consumer consciousness around large scale diamond mining. Windfall Jewellery is so proud to offer an alternative as part of our range.
Moissanite's are grown in a carefully controlled laboratory setting. The lab we use have 18 years of experience and high quality control standards.
LAB GROWN DIAMONDS VS NATURAL WHITE DIAMONDS

If going down the path of a diamonds, you may ask yourself why you would get a lab grown over a natural diamond or vice versa. It is a good thing to contemplate and the final decision will really be based on your budget and what is important to you. There is no right or wrong answer there. Different strokes for different folks as they say.
You may consider lab grown diamonds if you would prefer them for ethical reasons (Even though we of course only use conflict free, ethically sourced diamonds, some clients do not want to contribute money towards the mining industry as a whole), personal preference or your budget extends past moissanite and you want a "real" diamond but again wish to keep the cost down as much as possible. 
You may consider natural diamonds because let's face it, they are beautiful and having a little piece of mother nature of your own, knowing this stunning rock was created all by the wonders of the Earth and Mother Nature herself is rather enchanting. Some people also don't like that lab grown diamonds don't have the natural energy within them that natural earth made stones have. And finally, lab grown diamonds aren't far off the price of naturals in many instances, you may just decide, why not the real natural deal.
LAB GROWN vs NATURAL SIDE BY SIDE
SALT AND PEPPER DIAMONDS
I mean who doesn't want a little galaxy inside their diamond?!
Salt and Pepper diamonds are not graded like your regular white diamonds so as such they do not come with any kind of certification. This is because the diamond industry does not grade Salt and Pepper diamonds the same way they do with white diamonds and the 4 C's that usually apply (colour, clarity, cut and carat) don't apply / aren't graded for salt and pepper diamonds. If you wish to have a certification done, you must let us know at point of purchase as this needs to be done whilst the stone is loose and not set into a ring and we can arrange for this to be done independently by a qualified and accredited gemologist at your own expense. This will provide a gem stone certification that basically just confirms it is a salt and pepper diamond but still will not have the same grading information a standard diamond certificate would include as it doesn't apply to salt and pepper diamonds.

One thing to note about Salt and Pepper diamonds is despite their mysterious beauty, they don't have as much sparkle and fire as their white diamond cousins as not as much light can pass through the stone. If you are wanting to feature a salt and pepper diamond AND have lots of sparkle, you may consider a rose cut salt and pepper diamond which has more facets on the face of the stone for light to bounce off, or you can pair the salt and pepper diamond with white diamond accent stones either in a halo around the stone, or down the ring band to add that extra zazz and sparkle.

Another thing to note about salt and pepper diamonds is due to being heavily naturally included, these inclusions can show at surface level when the stones are cut and faceted. This means on a usually flat smooth faceted side of the stone, sometimes there can be a "chip" or cavity as when the stone is polished this would have naturally been within the surface. Not all salt and pepper diamonds have these but if they do, we will of course alert you that the stone has this inclusion so you are fully aware before purchasing the stone. This is part of the rawness, imperfection and beauty of salt and pepper diamonds.
PARTII AND SINGLE COLOURED SAPPHIRES

Another of our best selling and most coveted stones is the Partii Sapphire. The term Partii means more than one colour. It's usually the presence of two colours within the one stone but sometimes even extends to three, part blue, part green, part yellow; hence Partii! Most of the Partii sapphires we use are blue/green or green/yellow and are usually of Australian or Madagascar origin. The difference between the Australia and Madagascar partii sapphires is the naturally occurring shades of blue and green. 
If you are after a coloured stone in your engagement ring we highly recommend sapphire as your choice if available in the colour you desire as they are most durable and hard wearing of all coloured stones.
PARTII VS SINGLE COLOUR SIDE BY SIDE
BLACK DIAMONDS

Black diamonds have become a popular choice for those seeking an unconventional engagement ring.
Black diamonds are not graded like colourless diamonds. Instead they are graded based upon qualities which are used to grade fancy colour diamonds or coloured gemstones such as size, quality of the cut, symmetry etc. If you wish to have a certification done, you must let us know at point of purchase as this needs to be done whilst the stone is loose and not set into a ring and we can arrange for this to be done independently by a qualified and accredited gemologist at your own expense. This will provide a gem stone certification that basically just confirms it is a black diamond but still will not have the same grading information a standard diamond certificate would include as it doesn't apply to black diamonds.
Due to their porous nature, black diamonds can be more brittle and therefore knocks or blows to the stone can be disastrous and can literally chip or scratch the stone. We recommend extra care be taken with a black diamond and it should certainly not be worn during any physical work with your hands, at the gym, heavy lifting etc. You should refrain from exposure to heat and chemicals etc.
We will never knowingly send out a damaged stone. Once we finish your black diamond ring and inspect it, it will leave our studio in perfect condition. We have records of any natural inclusions, pits etc on the stone prior to the ring going out. Your warranty does not cover if you are to accidentally damage your stone.
Keep these factors in mind when purchasing your black diamond rings. We are here to assist you each step of the way and guarantee our workmanship and choose only the finest black diamonds but it's up to you to take care of her once she's in your care.
If after reading this information you are thinking you would like a black stone but perhaps black diamonds are not for you a fantastic alternative is black moissanite which look almost identical and are much more durable.
MORGANITE

This stunning stone has gained a lot of popularity particularly in engagement rings as it is a stone of divine love and brings with it compassion, assurance and healing. Delicate and feminine with it's soft colour, Morganite comes in both peachy and pinky tones. While the most revered stone of the beryl family, Morganite is also a popular alternative choice for those who want a gorgeous coloured stone in this colour palette without the price tag of an equivalent sapphire or champagne diamond.
Morganite is rated 7.5-8 on the Mohs Scale (Hardness rating scale). Within the Mohs scale, stones rated 7 and above are considered hard and appropriate for ever day wear though it is important to understand there is a remarkable difference between a 7 and a 9 for example in hardness so these stones will require a bit more care than say a sapphire.
GARNET
Garnet is the birthstone of January, a deep rich beauty and is one of the most ancient of talismans known for its protective energies. It is a sensual stone and helps in the ability to work lovingly on the physical plane. Garnet represents the creation of the world out of a chaos, purification and love and is a stone of strong, intense feelings.
It has a hardness of 7 on the Mohs scale so it is considered hard enough for every day wear when the proper care is taken however should not be subjected to any hard blows or rough wear.
LONDON BLUE TOPAZ
Almost all blue topaz is actually naturally colourless topaz that has been  irradiated or heated to achieve the colour you now see. There are varying shades of blue topaz however we love the striking deep rich blue of London Blue Topaz and have made this a part of our options available in our collection. Blue topaz is also the birth stone of December.
London Blue Topaz has a hardness rating of 8 which makes it a hardy alternative to Blue sapphires for those whom want a stunning blue centre stone but whose budget doesn't quite extend far enough for a blue sapphire.
There is no need to worry about the colour changing or wearing off etc or fading with exposure to light as the radiation and heat treatment used to produce the blue colour is permanent. That said, due to the possibility of separation of cleavage within the stone and possibility of a stone including liquid-filled inclusions which can cause the gem to fracture when heated. For this reason, London Blue Topaz should be cleaned carefully with a soft brush and warm soap and water. Steam and ultrasonic cleaning should not be used.
CITRINE
Carrying the power of the sun, it is warm and comforting, energizing and life giving stone and stunning to boot.
This November birth stone, has a hardness rating of 7 on the Mohs scale so it is considered hard enough for every day wear when the proper care is taken however should not be subjected to any hard blows or rough wear. This stone will be ok for everyday wear in rings so long as the wearer understands Citrine's limited hardness.
LAVENDER MOONQUARTZ
A Windfall fan favourite and staple in our collection the Lavender Moonquartz aka Lavender Moonstone is a feminine, pastel beauty. Sitting pretty in both our every day and engagement collections it is available in a more milky opaque and a more translucent option.
This stone has a hardness rating of 7 on the mohs scale so is suitable for everyday wear so long as the wearer understands the stones limited hardness.
AQUAMARINE
Aquamarine is known for it's famously pastel transparency but can also vary from a vary light blue, through to a darker more vivid colour. The name is derived from Latin, meaning seawater and was said to calm waves and protect sailors at sea. It is also one of March's birthstones! 
Aquamarine is rated 7.5-8 on the Mohs Scale (Hardness rating scale). Within the Mohs scale, stones rated 7 and above are considered hard and appropriate for ever day wear though it is important to understand there is a remarkable difference between a 7 and a 9 for example in hardness so these stones will require a bit more care than say a sapphire.
SPINEL
Spinel is a mineral with a lot of history. Long mined in Sri Lanka, Afghanistan, Myanmar, Vietnam, and Thailand, spinel garnered deep appreciation for its beauty, even winning a treasured place in a number of crown jewels. Found in a variety of colours, including red, blue, violet, and dark green, spinels are regaining their popularity of old.
Spinel ranks 8 on the Mohs scale and has good toughness, making it a durable gem for every day jewellery though would require a little more carer to be taken than a diamond or sapphire. With that said, given it's hardness being one grade less than sapphire, it is a great coloured stone alternative for those who love sapphires but want a cheaper alternative more suitable to their budget. 
ECO CAST - THE ENVIRONMENTAL CHOICE.
To align with our sustainability ethos we have chosen our casting house that matches our focus on reducing mining emissions. Casting using the purest precious metals, fully refined from guaranteed
100% reclaimed and

 

recycled materials
.
Our casting house is the first and only casting house in Australia to cast exclusively using 100% recycled refined precious metals.
Helping promote a cleaner, greener + safer environment by reducing mining and dangerous emissions.
Using no newly mined gold at all.
 Now let's talk about what metal you should choose. 
PLATINUM vs WHITE GOLD FOR ENGAGEMENT RINGS. 
IS WHITE GOLD THE SAME AS PLATINUM?
No. They are two different metals entirely. White gold and platinum have their own properties which make them unique. The following white gold information and platinum information show you the difference between the two metals.
WHITE GOLD
White gold is an alloy of gold and some white metals such as silver and palladium. White gold can be 18CT, 9CT or any karat. For example, 18CT yellow gold is made by mixing 75% gold (750 parts per thousand) with 25% (250 parts per thousand) other metals such as copper and zinc. 18CT white gold is made by mixing 75% gold with 25% other metals such as silver and palladium. So the amount of gold is the same but the alloy is different.

If you are to choose white gold as your metal of choice for your engagement or wedding pieces, they ring will be finished off with Rhodium plating. This is what gives the ring that desired bright, white colour. Rhodium is a metal very similar to platinum and Rhodium shares many of the properties of platinum including it's white colour.
The rhodium plating is used to make the white gold look more white. The natural colour of white gold varies dependant on the CT of gold it is. For example, 9CT White Gold naturally is a duller white tone and is more of a grey with yellow hue through it. 18CT White Gold naturally is a darker grey. The Rhodium plating is very white and very hard, but it does wear away eventually. How quickly this wears off varies from wearer to wearer and what the ring is exposed to/how it is worn, even the oils of the wearers skin etc. To keep a white gold ring looking its best, it should be re-rhodium plated approximately each 12 to 18 months. Some people don't need to and some people don't really notice this wearing back until its time to get their new wedding band.
PLATINUM
Platinum is a white metal, but unlike gold it is used in jewellery in almost its pure form (approximately 95% pure). Platinum is extremely long wearing and is naturally white, so it does not need to be Rhodium plated like white gold.
Platinum is denser than gold (heavy), so a platinum ring will feel heavier than an 9CT. This can be a selling point for some because it feels luxurious.
Platinum is a more precious metal than gold which makes it more expensive which is why the price increases if you choose platinum.
Some people see it as paying more at the start for higher durability long term as well as less inconvenience and no further cost for rhodium plating.
IS THE COLOUR OF WHITE GOLD DIFFERENT TO PLATINUM?
The answer to this question depends on whether the white gold jewellery item is in it's natural colour or whether it has been rhodium plated. If you were to hold a brand new platinum and a brand new freshly rhodium plated ring side by side, you may notice a very slight colour difference however if just looking at one, or the other, the untrained eye would likely not spot the difference.
If a white gold item has been rhodium plated then the colour difference will not really be noticeable at all until the rhodium plating begins to wear off.
Platinum has a permanent bright white lustre and does not have a very light yellow/dark grey tinge like white and therefore is great if you want that bright white look without having to re-plate every year. In the long run it is a better and cheaper option.
IS PLATINUM MORE DURABLE THAN WHITE GOLD? 
Technically the answer to this question is yes. We have outlined why below, but it is important to understand that platinum is not damage proof and can still sustain scratches and damage the same as any other metal ring.
People often assume because of the price tag that it may be more durable. This metal does also hold a reputation among people as being the more durable metal however this is not necessarily so.
What we have come to realise is that to consumers buying jewellery, durability equates to how scratch and dint proof something is. However there is a major difference between durability and scratch resistance and hardness and durability.
We'll re-iterate by saying that no metal, no matter it's expense or preciousness, it is not scratch or dent proof nor bend out of shape proof. It is how a metal copes with damage that occurs causing scratching or dints that determines what is considered more durable.
Platinum as a fact, is very durable. Because it is a highly malleable metal, when it is scratched or dented, the scratch or dent displaces the metal, moving it leaving ridges on the edge of the scratch or dent. This action is what classifies Platinum to be so durable.
This is by comparison to other precious metals such as gold where if the same thing were to occur, you lose the metal from the ring rather than it moving to a different area. Gold rings also wear down quicker than Platinum as a result of this. 
COMPARING DIFFERENT CARAT OF GOLD
When it comes to gold, we work with 9CT and 18CT Gold predominantly (White, Yellow and Rose). At your request, if you want a higher carat of gold, we can also do 22-24CT.
Pricing on our website is based on 9CT as the standard option. You can upgrade to the more premium 18CT or platinum metals by ticking the upgrade boxes when ordering and it will update your total when you arrive to the cart. If you are unsure, please contact us for assistance.
9CT gold is actually a gold alloy – a mixture containing additional metals, not only gold. These extra ingredients are meant to improve the characteristics of the alloy.
DIFFERENCE OF HARDNESS
The difference in purity between 24CT down to 9CT Gold results in different levels of hardness, affecting how these materials are used in jewellery.
Within consumers and even amongst information given by jewellers/the industry, there is confusion between the two terms 'hardness' and 'durability' and it is important to understand that hardness doesn't equal durability and they mean two different things.
The following simple example generally helps explain the difference best:
If you have a pane of glass and a sheet of perspex (hard plastic sheeting) next to one another and observe, you will see that the glass is clearly the harder material by any hardness test you with to carry out on the two of them. Now hit the two with a hammer... the glass will shatter and it's more likely that the hammer will bounce back at you off the perspex. This makes the perspex the more durable piece even though softer. This analogy translates well as an example of the differences of hardness and durability between the 9K and 18K gold.
9K Gold is relatively hard, and this is one of the reasons this alloy is a popular choice for every day wear jewellery as at a surface level, it tends to stay in shape better, and scratch and dent less easier.
That said, due to it's hardness, it can be more rigid and when suffering a significant blow, is more likely to crack in the setting, or crack the stone as there is less movement in the metal. 9CT gold is clearly the harder material when compared with 18CT gold, but it is this harness that reduces 9CT golds durability long term when it comes to everyday knocks and wear and tear. 
 When compared over a long term period, 18CT comes out on top.
HELP - I STILL DON'T KNOW, WHAT DOES WINDFALL RECOMMEND?
Our opinion is if you have no preference or budget restrictions then we reccommend 18CT (or platinum). For the budget conscious shopper, in our opinion there is also nothing wrong with 9CT Gold and no matter what gold carat chosen, if you take the relevant after care tips and look after the ring, then all should last a long time. 
The best recommendation we can give is that you research and gain an understanding of the differences between all options and make an informed decision that suits your needs and budget best, accepting both the pros and cons in the short and long term of whatever option you take as you will be knowledgable in making this final decision.
 Don't be scared to ask as many questions as you need from us as there is no cap on question asking and there is no silly questions  and we are totally happy assist you with what ever info you need to make an informed decision :)