Our guide: creating your dream bespoke engagement ring with a custom design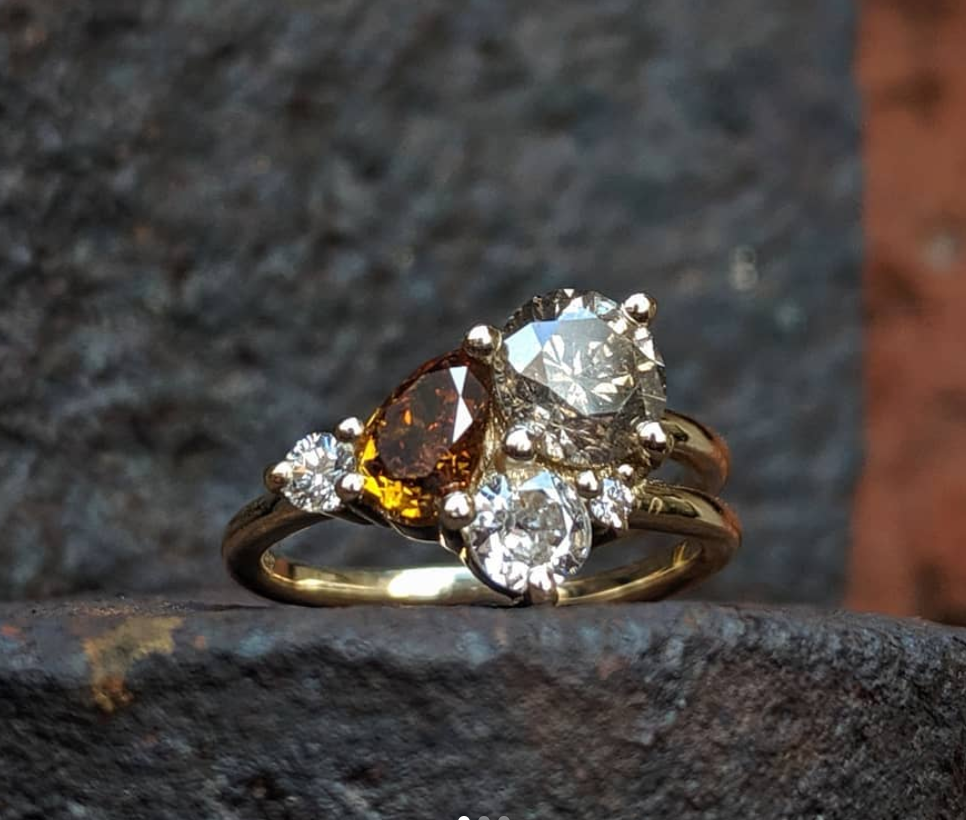 Tips for designing a custom engagement ring
Finding the perfect engagement ring can feel a little daunting in the beginning. Going mainstream can limit your choice of gemstones and precious metals, not to mention price options. On the flip side, custom rings offer the option to create something truly unique with a wider selection of stones and materials to choose from and the ability to work with a jeweller to create your dream ring from scratch.
When you choose to customise your engagement ring design, you're gaining access to a wonderful world of lesser-known stones and cuts. More importantly, a custom-made engagement ring empowers you to make an informed choices about how your diamond/stone was sourced.
More than a symbol of your commitment, a one-of-a-kind engagement ring is a reflection of your eternal love and personal vows – so why not design it to be as unique as you are?
We've put together a selection of our favourite customised engagement ring designs from over the years and included our top tips for customising your perfect ring to help you get it right.
Windfall's favourite custom engagement ring designs
In need of some engagement ring inspiration? Here are our favourite custom engagement rings we had the pleasure of creating in our studio.
A renewed family heirloom

We love repurposing rings with sentimental value. This stunning ring belonged to our lovely customer's dear grandmother and was worn as a wedding ring before being passed down. It was resized and renewed as a new wedding band, paired perfectly with a Madagascar oval Parti sapphire halo made by us.
Unconventional, but a jaw dropping engagement ring

We love creating all kinds of engagement rings for brides-to-be. This one? A stunning example of an unconventional set. We worked with earthy tones rather than traditional white diamonds with this ring. This ring featured a beautiful sapphire in pear solitaire, accompanied by grey and salt and pepper diamonds, all set in yellow gold – as requested by the bride herself to reflect her personal tastes.
Morganite – the 'love' stone

Morganite is considered to be a love gemstone. It's a heart chakra stone that carries the energy of divine love and compassion – the perfect stone for any engagement ring design. Its peach and pink tones bring a sense of peace and joy for all, not to mention acting as a constant reminder of divine love. It's no wonder it's a popular choice for rings.
A coffin stacked engagement ring

It's no secret we love creating traditional ring designs with a modern twist. One of our favourites? This coffin stacked engagement ring paired with a custom-fit crown stacker and open shank stacker. Safe to say it's one of our all-time favourites.
Pear shaped diamonds

In the jewellery world, a pear shaped diamond, otherwise known as a 'tear drop', symbolises tears of joy. It's not a common choice, making it a truly unique shape perfect for brides wanting something a little different. Funnily enough: pear shaped diamonds are our most commonly chosen shape at Windfall, not to mention one of our favourites. It's a classic design that will remain timeless, plus it elongates the appearance of your fingers. 
The custom ring design process and creating your dream ring
A custom made ring gives you ultimate creative freedom from the get go. From stones to materials, cuts and sizes, your custom design is sure to be worn to death (do us part). Here are a few tips (from the engagement ring specialists themselves) for designing a bespoke engagement ring, as well as everything you need to know about the custom ring design process. 
1. Start with research

At Windfall Jewellery, we love a mood board. Any visual references that will help us understand your vision are so valuable in the design process. If there's a ring design, shape or style that you like, even a stone or base material that you're fond of – put together a collection of photos and create a mood board to share with us during your consultation. 
2. Engage a designer early in the process

Custom engagement rings often take up to a few months to complete. It's best to start designing as early as possible, or at least considering what aesthetic you're going for so you're well prepared for when you drop the knee. It's important to find a designer who not only understands your vision but can walk you through the process, guide you through your options and deliver you or your partner's dream engagement ring. 
3. Choose your metals
Traditionally, engagement rings tend to be made with yellow gold, white gold, rose gold or platinum. When customising your engagement ring, you can choose from this range of metals, the number of karats and also finishes for the metal.  
4. Consider your stone choice

Choosing your centre stone is one of the most exciting parts of customising your engagement ring. If you don't have a particular stone in mind and need some inspiration, research your or your partner's birthstone, favourite diamond or gemstone or even favourite colour. Or better yet, ask them (or their best friend) to get the inside scoop on their unique style.
Our favourites at the moment? Salt and Pepper diamonds, Champagne Diamonds, and Parti Sapphires, just to name a few.
5. Find a jeweller whose aesthetic and style is your perfect match

One of the most important steps on your engagement ring journey: finding a jeweller whose aesthetic matches your own. Not only will this ensure that your custom engagement ring is exactly to your or your partner's liking, but it will help speed up the design process. Similarly, finding a jeweller who aligns with your values is also extremely valuable. For example at Windfall, we centre our values around being We create custom made engagement rings with ethics front of mind. If an ethical engagement or wedding ring is at the top of your list, we could be the perfect jeweller to help bring your dream ring to life. 
Create your dream bespoke engagement ring with Windfall Jewellery
At Windfall Jewellery, custom engagement rings, statement rings, wedding bands, unique designs and accessories are our bread and butter. In the first stage of the design phase, we work with you in a private consultation to get to know you/your partner and work collaboratively to create a one-of-a-kind piece. If you're ready to get started in the process of creating a custom engagement ring then don't hesitate to get in touch. To discuss all things engagement rings or to get in touch, book a private consultation with the team at Windfall. We can't wait to help you create the ring of your dreams.