Everything you need to know about custom engagement ring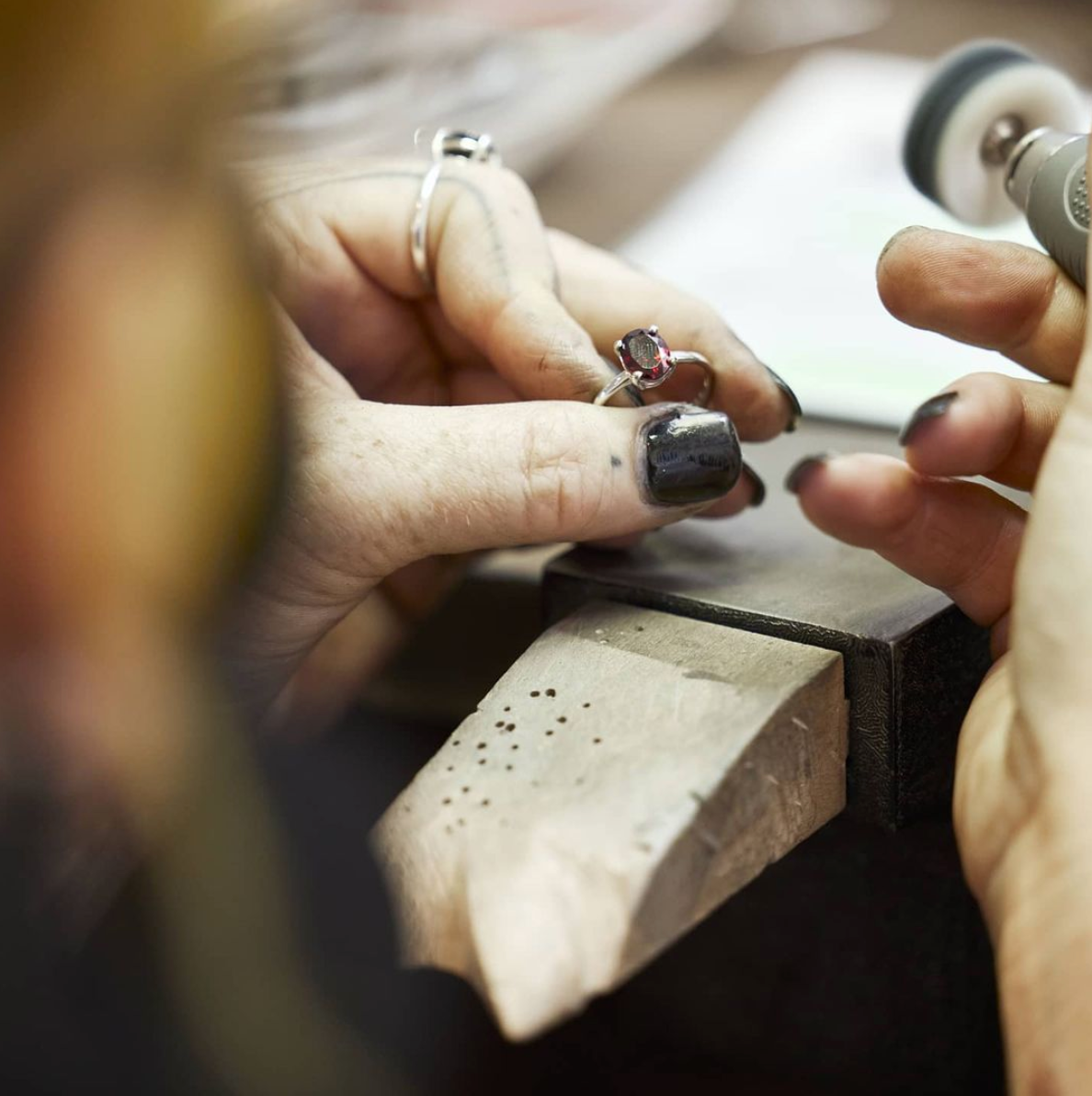 Welcome to the world of custom engagement rings, it can be pretty overwhelming but we are here to help guide your journey. From stone selection to creating the dream wedding stack, we are here to make your wildest engagement ring dreams come true. Welcome to Windfall Jewellery.
Sarah 'Laser Beams' Lim doing a final quality control check on one of our centre stones.
Custom engagement rings with Windfall
Our custom engagement ring offering focuses on providing high quality service, sharing our expertise of custom designs, including creating custom rings with inherited stones, and sharing our experience in ethical jewels. We pride ourselves on our crafts(wo)manship and love seeing the look on our happy customers' faces when they see the final product – 'Wow!'.
It's the final touches on each ring that really bring the "wow" factor home.
Custom engagement rings in Melbourne
Are you based in Melbourne? Book in to come visit our studio and we can help you in person and show you all our beautiful stones that we can use in your custom engagement ring. We highly recommend coming in for an appointment and let us show you what we can make possible. This is especially great if you are wanting to redesign a ring or want to work with an inherited stone or ring.
Unique love deserves a unique ring
When it comes to engagement rings we understand that they are a once in a lifetime purchase and you want to create something special that you will cherish for the rest of your life. What could better symbolise your commitment than a custom engagement ring reflecting your eternal love and personal vows – so let's design it to be as unique as you are!
Let's create a vision
We highly recommend starting with a vision board of sorts. Many of our customers use Pinterest for this as it's super easy to bring into the studio or to supply the Windfall team with a link. From here we can really get a feel of what kind of stones, metals and cuts you're drawn to. Including a variety of ring designs and wedding rings in your vision board will help us create something unique together. This allows us to both provide you with options in line with your favourite styles, as well as offer you alternatives that sit just outside a particular style that might pique your interest or offer a more feasible price point. Either way, it's a great communication tool and ensures we're heading in the right direction to create your perfect ring.

While we're looking at engagement ring designs, this is also the perfect time to consider what you want your wedding ring to look like. You may want to consider if a wedding ring stack is something worth keeping in mind when designing the two pieces so that they will sit on your finger in perfect harmony.
Stone selection for your custom engagement ring
The centre stone is such a magical place to start when creating your ring. You can start by checking out all our stones available for custom engagement rings. Alternatively, if you are looking for a bit more information before selecting the diamond for your custom ring, you can explore our Ethical Diamond Guide, which provides background on how and where we source our diamonds from so you can trust your ring is full of love, not labour! We also have a selection of coloured gemstones that bring vibrance and a personal touch to any custom ring.
Ethical jewellery is a value we hold close to our hearts, so don't hesitate to get in touch with our team and they can answer any further questions you may have.
If you haven't done much research yet, here are some of our favourite centre stone options:
Stone cut selection for your custom engagement ring
Within our range of custom engagement ring stones you can find a wide variety of cuts. This is totally up to you and will depend on your preference and what style you like best. From the cut of the centre stone we can start building out the rest of the ring. If you can't see the cut you're after in our selection online, just let us know as we can always source different styles and cuts for you if you have something specific in mind.
Metal selection for your custom engagement ring
Metal selection is our next step in the custom design process and it's important to consider that not all metals are equal. Golds (including white and rose gold) are not as strong as platinum, and high carat gold is softer and easier to scratch but more durable and better wearing long term. It's worth considering your lifestyle, whether you'll always be wearing your ring, as well as personal colour preference when selecting the metal for your wedding bands and engagement ring. All of our gold is recycled as a more ethical alternative for our customers.
Creating your custom engagement ring
Finally, with all the parts and a design created together, we get to build your dream and invite you to meet your custom engagement ring. Congratulations!
When in doubt, reach out.
Still not sure where to start? Get in touch with our team and we can walk you through where to go from here. Get yourself a Pinterest board together and let's start dreaming! Whether you're bringing in your grandparents' engagement ring to be reimagined or recycled gold being paired with an ethically sourced gemstone, we can work together to make something truly personal and special. Are you ready to start designing your dream bespoke ring?