Handcrafted engagement rings (and other jewellery) inspired by the ocean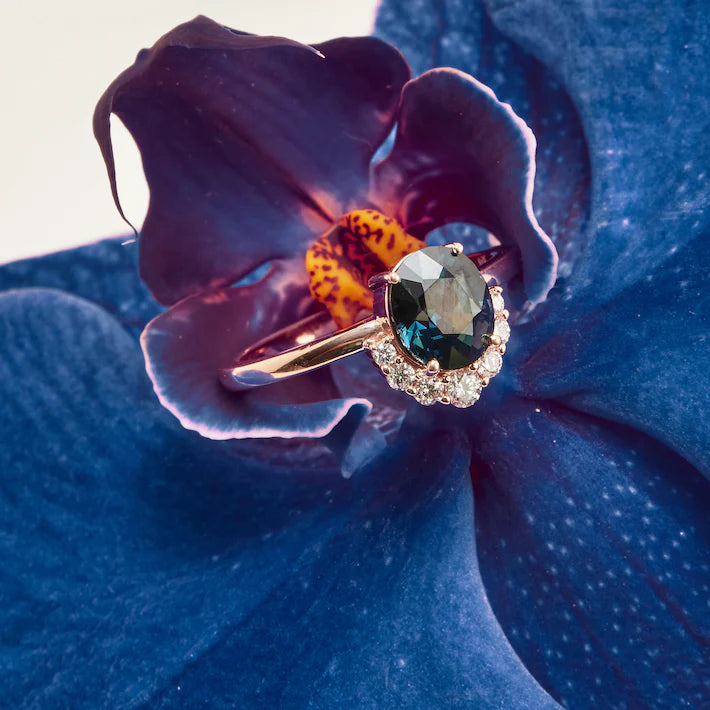 Finding and designing jewellery that reflects and expresses our passion or love for something is beautiful. These types of unique pieces make for memorable gifts and keepsakes, and show our loved ones how well we know them. When it comes to ocean-inspired jewellery, the pool is pretty small – and not to mention can be kind of cringe at times. 
If jewellery covered in dolphins or bands shaped like waves isn't your vibe then we've got some stylish inspiration for you. Especially when it comes to sea-inspired engagement rings, we can do so much better than those ocean cliches. So whether you and your special someone are pro surfers, marine biologists, passionate ocean conservationists or ocean lovers like us, there's jewellery to reflect that. 
From bespoke engagement rings, wedding rings, necklaces, custom rings and more, discover ocean-inspired engagement rings (and other jewellery) that reflect a love of the big blue sea.
7 Handcrafted Pieces Inspired By The Ocean 
When it comes to sophisticated, dainty and simple engagement rings, you can't go past this Floating Solitaire Engagement Ring. With a 6mm Round Navy Moissanite Diamond, this subtle blue is the perfect nod to a love of the ocean without being overbearing. This ring is ready to ship but you can create your very own custom Floating Solitaire Engagement Ring and handpick your metal, ring size and your favourite stone.  
Shining as bright as the crystal clear blue water on the Amalfi Coast is this 9-Carat Rose Gold Sunshower Ring showcasing a beautiful London Topaz stone. This classic cocktail ring can be worn every day comfortably and the vibrant colour is to die for. This ring can also be customised so if London Blue is not your thing there are plenty more stones to choose from. You might also like our ready-to-ship Sunshower Ring in Emerald. 
Who says that ocean-inspired engagement rings need to be a light and bright coloured blue? Not us. When the light catches this stunning Madagascan Sapphire, colours of deep blue and green stand out giving the perfect subtle nod towards the colours of the mysterious deep dark sea. With a stunning half halo, this ready to ship, rose gold engagement ring is perfect for anyone after a unique engagement ring. 
This ring can be customised to include a range of different diamonds and stones. But if you can't find what you're after, get in touch with us and we'll do our best to source the right stone for your ring.
The mix of colours within this sapphire is nothing short of mesmerising. This blue 2.11CT Rose Cut Sapphire is an ideal pick for designing a unique ring that looks like the mystical ever-changing colours of the ocean – stunning. We source our Rose Cut Sapphires from Montana, Rock Creek Mine and each stone has unique colouring that changes in different light. You can design your perfect sapphire engagement ring online with hundreds of colours, cuts and shapes to choose from.
Read our guide to learn about sapphires including everything you need to know about Australian Parti Sapphires.
If rings aren't your thing or you're shopping for a gift, we recommend our Whale Tail Pendant collection in collaboration with Sea Shepherd. There is just no way we could create an ocean-inspired jewellery guide without including this super special piece from our collection. 
You can purchase this necklace in a range of metals including sterling silver and 9K yellow, white and rose gold. It also comes in 2 different chain lengths. 
By purchasing this handmade whale tail you are contributing to the brilliance of the Sea Shepherd organisation with 100% of profits being donated to Sea Shepherd Australia.
Sea Shepherd Australia is a non-profit conservation organisation whose mission is to end the destruction of habitat and slaughter of wildlife in the world's oceans to conserve and protect ecosystems and species.
At Windfall, our focus is always on sustainability. Our studio sources materials and stones from as many local cutters/mines/suppliers as possible and we will always be transparent about our suppliers and where we source our materials from. This collaboration with Sea Shepherd is important to us, plus it makes a really beautiful gift for someone who loves the water and conserving wildlife.
Moissanite is a diamond simulant and an incredibly unique stone to have on your engagement ring as each one has unique colouring. The blue and green colours bursting through this halo ring are just beautiful. Just like our classic round halo, the centre stone is accented by a halo of diamonds and we've included additional diamonds along the ring band for that extra sparkle.
As well as moissanite, you can customise your Emerald Cut Halo ring from a selection of stones including Black Diamond, Morganite, Grey Moissanite, Partii, Blue or Green Sapphires, Natural Certified White Diamond or Salt & Pepper Diamonds.
Last, but certainly not least, is this elegant 9-carat White Gold Aquamarine Engagement Ring. It wouldn't be right to leave the aquamarine stone out of our ocean theme guide with its beautiful subtle blue colour that sparkles in the light. 
This ready-to-ship engagement ring features an 8mm aquamarine stone surrounded by natural white diamonds forming an attractive 'halo' around the centre stone – which gives it its name. The floating style of the ring also allows you to stack it with a straight wedding band making it versatile and comfortable. 
Create your own bespoke halo diamond ring and choose from hundreds of colours, stones, metals, diamonds, carats and cuts. We believe we can create the perfect engagement ring for anyone. 
So there you have it, 7 unique pieces inspired by the almost endless array of colours found in our beautiful oceans. Can't find what you're looking for? Book a consultation with us at Windfall and let us help you design your dream piece.